An inspiring agenda for your next Employee Orientation Events and Onboarding Days
This example agenda is easily adaptable for your needs, whether your onboarding is in-person, hybrid, or remote and fully online; whether it's one day or a full week programme; whether it's live or async; and whether your participants are in the same country or spread out across different continents and time zones.
Read on for some inspiration on how to build better onboarding experiences for your new starters! Or check out our solutions for Virtual Employee Orientation here.
Example Agenda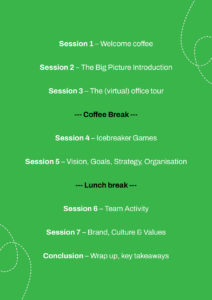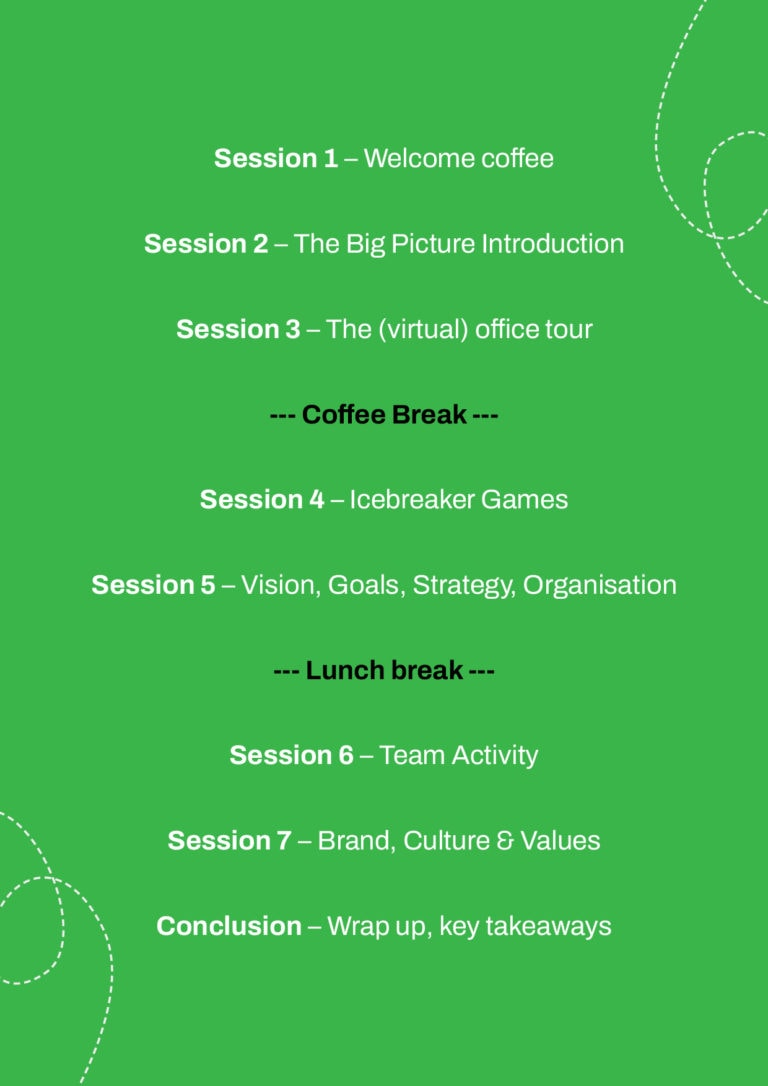 The agenda in detail

Session 1 – Welcome coffee
Your orientation event should start with a short informal introduction session to welcome your participants.
First impressions count, so make a positive start to the day and provide your new starters with a warm welcome.
Briefly introduce yourselves as organisers, before providing an outline of the agenda of your onboarding event. If you have prepared an agenda document, share it with them now if you haven't already.
This introductory session allows your new starters to meet and greet each other and to begin to relax. Settle their first day nerves and help them build some confidence during your informal welcome coffee (coffee not obligatory! 😊).
As with all the sessions on this agenda, your welcome coffee can be run in-person or remotely via a shared meeting.

Session 2 – The Big Picture Introduction
We get it – you have A LOT of information to share with your new starters to get them up-to-speed. Your company's origin story, the journey to date, your long-term vision, culture and values, objectives, vision, passcodes, compliance procedures, the org chart – the list is endless…
And you will eventually cover it all. But not on day one!
Too much information at once leads to an ineffective onboarding experience. To avoid overwhelming your onboarding cohort with too much information, it's important to start off with the bigger picture.
Don't get too technical, and don't try to cram everything into the first morning.
Think of the onboarding journey as a narrative – tell the story of your company in stages. At this stage, your aim is to introduce and inspire.
Choose the Onboarding Game for the ideal big picture introduction, covering top line topics like Purpose, Strategy, Culture, Values, and the Business Model.
Your cohort will take on the challenge in small teams of between 4 and 8, providing a collaborative peer-to-peer learning experience and transforming your participants from passive listeners to active contributors. By taking on challenges, discussing learning topics, and having fun together, participants emerge with a deeper understanding and a stronger connection to their new company.
John Nardone, Director of Talent Development at Matillion, ran the Onboarding Game for the company's Onboarding Academy last month, and said:
"We wanted a way for our Onboarding Academy to finish on a high, with some competitive fun alongside a way to pull together a week's worth of learning and demonstrate to our Executive Team the collective thinking of our new starters when they now reflected on our values. James at Doubleflow designed a bespoke Matillion game that embodied all of those things – the feedback from our participants and the Exec Team is overwhelmingly positive and we couldn't be more pleased with the end product – Thank you James!"

Session 3 – The (virtual) office tour
The office tour is an important part of orientation during onboarding, helping new starters feel in their new surroundings.
These can now work equally well online using a range of free and paid software, from video and 360° photography to VR!
Set a series of questions to make this session more interactive and engaging. For example:
What is the name of the café on the second floor?
What local landmark is found on the street opposite?
What colour is the reception desk?
— Coffee Break —
A smart use of coffee breaks is vital to the smooth running of your onboarding event.
Use these short 10-20 minute breaks as buffers to keep your schedule on track. If you suspect a session might overrun, or teams might finish an activity at different times, schedule a coffee break immediately afterwards. This way you have some valuable minutes to allow people to complete all tasks and align again for the rest of the agenda.
Breaks are very different online – without queues for the bathroom, and anyone to talk to at the coffee machine, we often find that participants need shorter breaks for virtual and remote events. But encourage them to take a proper break during these sessions – put the kettle on, go for a quick walk around the block, and take some time to decompress. Breaks are important for maintaining engagement and encouraging positive habits for health and wellbeing in the workplace.

Session 4 – Icebreaker Games
Icebreaker sessions are short activities, using 15 minutes or less, designed to get people talking, sharing, and collaborating, inspiring lively discussions and encouraging participants to be more active throughout the meeting. This is especially important on a video call, where people can feel disconnected. An icebreaker helps to make the call feel more personal, and allows your team to get to know each other better. Not just what they do at work, but what they're like outside of work. Connecting in this way has been shown to increase productivity and engagement in the workplace.
You might prefer to start with an icebreaker, but saving this session for later enables your participants to build up some confidence before they start opening up with each other. Icebreakers can also work well as quick energizers after a break, helping participants refocus. This is especially important online, where it is easier to get bored and distracted.
Our range of 10-minute Icebreaker Games enable you to run icebreaker sessions for remote, hybrid, or in-person groups. The perfect booster session for your Onboarding agenda.

Session 5 – Vision, Goals, Strategy, Organisation
It's time to take the onboarding narrative further for your new starters.
Outline what the company wants to achieve, how it will do it, and where the new starter fits in. This final point is vital – empower your new employees by showing them how to contribute to the vision in meaningful ways.
This is the ideal moment to introduce a senior leader from your organisation. While remote onboarding provides several challenges, it does come with some major advantages for this particular session. It is far easier to involve a senior leader, scheduling a 15-20 minute session in their busy diaries to connect in to a video meeting, than to make such an arrangement in-person.
— Lunch break —
A communal lunch is a fantastic benefit for in-person events.
Despite many attempts over the last few years, it just doesn't work so well online!
Give your participants a chance to rest and decompress – regular breaks will help them retain more information.

Session 6 – Team Activity
You know that feeling of low energy after lunch? The afternoon slump is a real thing – widely documented and well-researched!
Avoid these feelings by introducing a fun team activity here.
Our Beat the Hacker game will set your team a challenge: to save their new company's files from our notorious Hacker! Overcoming a challenge cooperatively in small groups will help build connections between the new starters, while the leaderboard will stimulate friendly competition and an alumni feeling among your cohort.
Beat the Hacker can be branded and fully customised for your company, creating an unforgettable experience for your new starters.

Session 7 – Brand, Culture & Values
Following on from session 5, resume your onboarding story with an introduction to your brand, culture, and company values. Help your new starters build a meaningful connection with the company by making it personal: what do the company values mean to you on a daily basis? And can you share any inspiring examples of the values in action? If you get this right, your new starters will soon become your culture and values ambassadors.
We have a range of products which can help during this session, including the D&I Training Game and the Core Values Learning Game. Both can be fully customised, and offer a variety of activities and interactive learning workshops and discussions to make these topics more tangible and engaging.
But for this agenda, we advise you to try something different. Ask your new starters to schedule a 1-hour follow-up meeting within the next 2 weeks, when they will play the Core Values Learning Game together. This will help them maintain the connections they make during Onboarding. In order to encourage further networking, you could even encourage them to invite additional participants from among their new colleagues.

Conclusion
Conclude your New Hire Orientation event with a wrap up session, encouraging feedback from your participants. What were their key takeaways from the event, and what are their aims moving forward? What will they achieve as an Onboarding cohort?
Having wowed our new starters, let's reflect on the main principles of our model Onboarding agenda:
• Virtual and in-person onboarding events are very different, and there are advantages and disadvantages to both. Broadly speaking, remote onboarding needs to be more compact and concise, but it can be simpler to schedule, enabling you to connect new starters across different locations and time zones.
• Don't overload new starters with information on day one.
• Building connections is vital, and you need to provide opportunities for people to connect in different ways.
• Use coffee breaks as buffers to keep your agenda on track.
• Don't think of what you want to teach your cohort – instead, think of the narrative you want to create. Tell a compelling story, and put the pieces together throughout the event.